Uni-Base Board Cavity System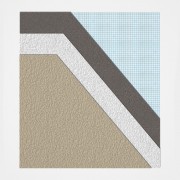 The Unitex Uni-Base Board Cavity System provides Architects, Designers, Builders, Developers, and Home Owners with Australia's ultimate weatherproofing security that builders have always enjoyed with standard brick veneer construction cavity walls but with added ultimate insulation values and energy saving benefits. The benefits in choosing the Unitex Uni-Base Board Cavity System, other than the proven conformance to the National Construction Code, is in situations where there is moisture or water ingress due to poor design or detailing of features such as  junctions and parapets, non-appropriate window, door fittings, other penetrations and or lack of or not fit for purpose expansion joints. It is then, through the Unitex Uni-Base Board Cavity System that this water ingress or leak is channelled away from the internals down the cavity between the Uni-Base Board System and the sarking covered building frame to eventually leave via the base installed Unitex Cavity Closer. This system therefor offers fail safe protection.
The Unitex Uni-Base Board Cavity System is for use in all situations except where BAL-29 and above (BAL-40) are required .
The Uni-Base Board Cavity System, when installed to the Unitex specifications, is the ultimate and Australia's leading accredited system available, offering fail safe leak security to the internal and framing substrate.
For your copy of the Building Surveyors Checklist Flipbook, please contact your Unitex Technical Sales Representative or Unitex Marketing. Or view online here.